Our Story
Blue Waters Products Limited established in the year 1999 in Trinidad and Tobago has grown to be an iconic Caribbean brand over the years and is now the preferred brand of bottled purified drinking water in the Caribbean

Water Source
Have you ever wondered where the water for Blue Waters bottled water comes from?
The answer is easy, it's from an artesian well! This artesian well is located in Orange Grove, at the manufacturing facilities of Blue Waters. You are probably thinking now, what is an artesian well? Let's answer this for you. An artesian well is created when pressure builds up below the ground, becoming great enough that water flows naturally to the surface. The name "artesian" is derived from Artois, France, where such wells were sunk as early as 1126. In some instances, a well is drilled into an aquifer, a water-bearing layer of porous rock. The aquifer lies between two impervious layers of rock, that is, layers of rock through which water cannot pass. The weight of the water held in the upper portions of the aquifer results in the pressure that forces water to rise in the well. Where there is a natural opening in the impervious layer above an aquifer, water is sometimes forced to the surface, forming an artesian spring. The water in many artesian systems is pure, while in others it is strongly mineralized. Our water is sourced directly from one such aquifer to supply our state-of-the-art bottling plant with the natural water that goes into Blue Waters products. Blue Waters then purifies this artesian well water, bottles it and then delivers directly to our customers from our facilities.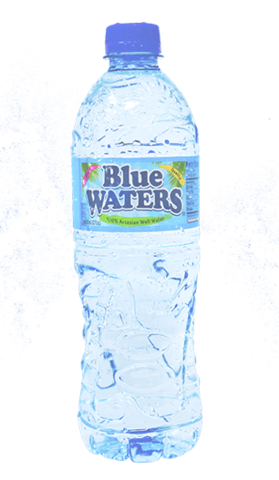 1.

Sourcing

Water sourced from an artesian well deep underground
2.

Disinfection

Chlorinated to eliminate bacteria, yeast and mould
3.

Filtration

Removes sediment
4.

Carbon Filtration

Utilizes a carbon filter to remove chlorine and other organic materials
5.

Softeners

Removes certain minerals that causes the "hardness" in the water
6.

Micro Filtration Remove Solids

Remove microscopic particles
7.

Reverse Osmosis

Dissolved solids and salts, and other impurities
8.

Ozonation

injection of ozone into the water to eliminate any bacteria, yeast and mould and preserves the fresh, clean taste.
9.

Bottling

100% automated bottling line where the bottles created, rinsed, filled, capped, labelled, dated and packed into the relevant packages – the entire process is totally hands free
10.

Warehousing & Distribution

Safely reaches to consumers

Our Mission
To profitably inspire and delight those we choose to serve, with Quality, Functional and Great Tasting Beverages.
Our Vision
One bottle a day for every man, woman and child in the English speaking Caribbean.
Our History
Blue Waters Products Limited established in the year 1999 in Trinidad and Tobago has grown to be an iconic Caribbean brand over the years and is now the preferred brand of bottled purified drinking water in the Caribbean. The company started with a dream and with just 12 employees, including just one salesman and two trucks, the ensuing growth over the last fifteen years led to the company now being a dominant force in the markets in which the company chooses to profitably operate. With over 500 good souls in Trinidad, the company now operates a modern facility in Orange Grove which can be simply described as world class by international beverage manufacturing standards, where it bottles water, sourced from an artesian well underground, filtered and purified, bottled and distributed to customers across the Caribbean region. Owned and operated by Mr. Dominic Hadeed, his vision for the company is to provide one bottle a day of high quality healthy beverages to every man, woman and child in the English speaking Caribbean. It is here, the employees of Blue Waters Products Limited find their mission, "To Profitably Inspire and Delight those we choose to serve, with Quality, Functional and Great Tasting Beverages!" Here are some key milestones in the Blue Waters journey:
1999

Blue Waters established:
Starting with 12 employees, including only one salesman and two trucks
2001

Blue Waters acquired Aqua Pur an existing purified bottle water company
2005

Blue Waters became the second largest shareholder in Banks Barbados, and started distributing Pine Hill Milk and Juices.
2006

Blue Waters acquired Pernod Ricard's local agricultural and alcohol distribution business, with brands such as Chivas Regal Whisky, Stolichnaya Vodka, Malibu Rum, Jacob's Creek and Wyndham Estate wines. Blue Waters later divested the distribution of the alcohol division to another subsidiary company.
2008

Blue Waters entered a joint venture to form Vending Plus, which is now the largest Beverage vending business in Trinidad and Tobago.
2009

Blue Waters established a Joint Venture distribution business in St Maarten, and recently launched Miller Beer on the island.
2011

Blue Waters established a Joint Venture with Pepsi Cola Trinidad Bottling Company.
2012

Blue Waters moved into a new 250,000 square feet facility in Orange Grove.
2013

Blue Waters established a new manufacturing facility in St. Lucia – Blue Waters St. Lucia Limited.
2016

Blue Waters rebranded its water flagship brand and introduced nested packaging- the first in the Caribbean.
Blue Waters commissioned the fastest water line in the Caribbean with electronic filling valves, wraparound labels, strong yet lightweight bottles and robotized palletizing
2018

Blue Waters launched JUSE and revamped the Cran+ design. The company also expanded its portfolio, leveraging on its existing expertise with the launch of the four coffee solutions, JUSE Slush, Carbonated Freezee and Juice.
2021

Blue Waters launched Stamina Energy Drink.