High quality drinking Hot, Cold and Ambient Reverse Osmosis (RO) Water Dispenser
Ideal for homes and offices.
Requires water supply, drainage and electrical connection.
Cooler with larger dimensions that provides high stability and durability.
Easily regulated cold water temperature (thermostat).
Capability to drink with cups for the models with cup filler.
Power Supply: 120 Va/60 Hz.
Electronic activation for dispensing of water.
Tank capacity


11 Liters Ambient Water




3.4 Liters Hot Water




4.5 Liters Cold Water

Safety systems


Overheating prevention system




Water level detecting system



High quality drinking Water Fountain Reverse Osmosis (RO)
Ideal for factories, warehouses, schools and public use applications situation that requires a robust and durable drinking fountain.
Requires water supply, drainage and electrical connection.
Made externally and internally of A-304 stainless steel.
Cooler with larger dimensions that provides high stability and durability.
Great hygienic protection through a special shell with anti-vandalism finish.
Height of the water jet can be regulated through the high precision valve.
The separation between the push button and the water jet provides more comfort.
Easily regulated cold water temperature (thermostat).
Capability to drink with cups for the models with cup filler.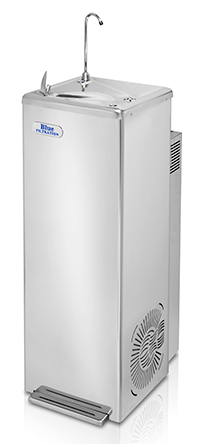 Whole house and Small business 600GPD Commercial Reverse Osmosis Water Purifier Systems
Whole House/small business Filtration System.
Throughput: 600 Gallons per day.
Replacement filters available at all leading Hardware and Home Stores.
Housing: Rugged Steel Casement.
Diaphragm Pump included in System.
Power Supply 110Va/60 Hz.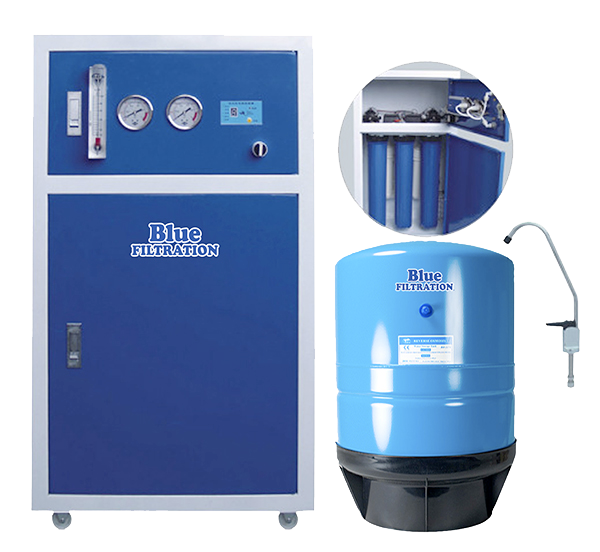 Schematic of Installed Filtration Solution for Major Restaurant Chain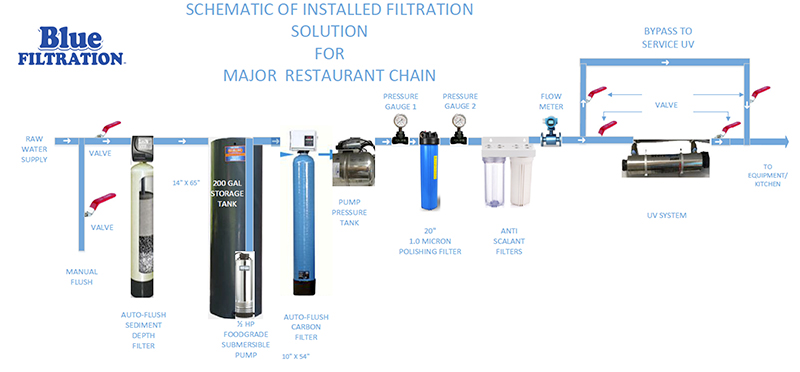 Filtration Solutions for Restaurants and Caterers.
Can be customized depending on requirements of business
From 1000 GPD to 5,000 GPD.
Power Supply: 120 Va/60 Hz.
System comprises of:
Auto-Flush Sediment Filter Unit
Auto-Flush Carbon Filter Unit
20" Polisher
Anti-Scalant Filters (To mitigate against CaCo3) thereby protecting the appliances from Scaling.
UV Light for Disinfection.
Contact: customerservice@bluewaterstt.com